DRAMATIC CONTINENTAL BREAKFAST TABLESCAPE WOWS GUESTS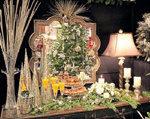 Dec 21, 2008
If you're like me, HGTV has become a source of entertainment and also frustration. Many of the programs this Christmas season have focused on creating tablescapes, repurposing vintage Christmas décor and the infamous outdoor lighting.
The entertainment for me involves the over-the-top Christmas lights that people staple, glue and wire to their homes.
One house was so bright I am sure that it is visible from outer space.
In fact, the owner said that they prepare for their New Jersey Power electric bill to exceed $2,000.00 for the month. Visions of Clark W. Griswold fill my head and give me a chuckle.
The main design principle that I keep foremost in my mind when gardening or decorating is to focus on a few key areas of the yard or house and go "over the top" and edit the rest of the areas to support or guide the eye to the focal points. Placing items everywhere creates confusion and dilutes the effect.
Great areas to place decorative emphasis when welcoming guests into your home for the holidays are: the front door, front entry foyer, chandeliers, staircase, the dining table, fireplace mantle/hearth, and guest powder room. When starting from scratch, just pick a couple of the areas and build from there.
As the holidays near, fresh evergreens are key and an essential element. The smell of fresh pine is so inviting.
A few pieces of cedar in a bowl by the front door will add just enough fragrance to bring back memories.
A reed diffuser with a very authentic pine fragrance will also do the trick. Fresh flowers will liven up your holiday décor. We all enjoy the cost savings of permanent botanicals and other treasures that we can use year after year but, if used solely without fresh flowers and greens, they can lack life. Here is a trick to bring life to those permanent items.
If you have miles of artificial garland in your home, a fun way to make at least a "quarter mile" of it look more real is to wire in little pieces of fresh evergreen into it. The garland will look fuller and adding the fresh evergreen also creates a natural fragrance.
If the first garland that your guests see has real greenery in it, they will smell it, touch it and most likely think that everything else they see is real too!
Another touch that will add warmth to your décor is fresh flowers. Red roses with holly and cedar, white tulips, white star of Bethlehem, white spider mums, ilex berries, and casa blanca lilies are a few of my favorites. It's amazing what even a few dollars worth of fresh flowers will add to a room.
If you are uncomfortable trying to design a large bouquet, you're in luck. A strong style trend is the component design look.
That's a fancy name for using all the narrow-opening slender vases that you have and simply cut one flower and place it in the vase. Push the vases together in a group or a straight line down the center of the table.
Complete the look by sprinkling small mercury ball ornaments and fresh greens at the base of the grouping and believe me - you'll surprise yourself with your "natural" ability! We created an example for you of a stunning continental breakfast.
Using some of these design concepts will light up the eyes of your guests! The reflective quality of silver and mirrors dominate this design with the view of the Christmas tree in the mirror. A few silver gilded princess pine boughs at the top of the mirror with a simple glass vase filled with sparkly dogwood stems and a buffet lamp create the frame.
Mirror cones and a fresh flower arrangement with white flowers and crystal candle holder shape the next layer. A small glass cake plate on top of a larger crystal cake plate creates a beautiful multi-level pastry tower.
Pre-poured orange juice in chilled crystal flutes with two pieces of cinnamon "red hot" candy resting in the bottom add a pop of color and a great festive tasting drink. The buffet is finished with silver mercury balls, mixed fresh evergreens and holly.
To create the most impact choose a dominate color scheme - like silver in this case. This creates a central guide that you can build upon to compose a cohesive look.
Even if your whole house is green and red, creating an area that is monochromatic using white, red, silver or gold will help add emphasis to your focal point.
It's a busy time of year. Enjoy it! Remember that you are not just feeding people. Your efforts are a way for you to show your guests how much they mean to you. Most importantly, you'll create warmth and memories that support the magic and hope of Christmas.
All my best to you and your family this Christmas season.
Jim Gainan is VP/Shareholder of Gainan's Flower and Garden Center in Billings.Questions or comments? Email Jim Gainan @ jim@gainans.com.