CREATIVE DECORATING INSPIRED BY A LITTLE HELP FROM A FRIEND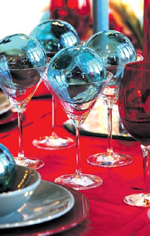 Dec 7, 2008
With Christmas in every room, Shelley Van Atta has to get creative when it comes to decorating. Last year her longtime friend, Jim Gainan of Gainan's Flowers and Gifts, helped Van Atta creatively combine her holiday decorations into unique and eye-catching displays. Gainan offers these tips to repurpose Christmas décor to create interesting uses for things that you may already have.
The grand foyer at Van Atta's features a Schimmel grand piano. When Gainan was decorating, he found a few key items around the home, including a Waterford glass vase in translucent blue. He said he wanted to add a statement with a twist in aqua and red instead of the traditional red and green. A candelabra is featured on the piano with a fresh arrangement set in it, including genestra with white dendrobium orchids to emulate a snowy tree, bringing the outdoors in, Gainan said. A collection of Van Atta's crystal candle holders are tied together by keeping candles the same color and size.
Large glass flutes are filled with mercury glass ball ornaments. The look is meant to transcend to a New Year's theme. The glass flutes emulate champagne glasses. A splash of gold is added with fabric. Gainan said adding fabrics is a good way to interject color into the home.
When Gainan set the table, he was inspired by the large windows along the south side of the home showcasing the panoramic view and the deep blue of the sky. He set the table, keeping with a red/aqua theme by using something as simple as martini glasses filled with colored mercury glass ball ornaments.
Silk calla lilies sit in square glass containers on the table as small centerpieces. Two taller, hand-blown red glass vases hold Casablanca lilies. Adding these flowers at a greater height created two levels of centerpieces. Van Atta finished off the chairs with red tulle to tie in the glass vases.
With a hors d'oeuvres, fondue or children's table, decorative holiday plates can be used, leaving the fine china to be set at the dinner table.
"A lot of people have two looks," Gainan said, "A whimsical Christmas look with chubby Santas on their dishes and high-end Christmas china."
Gainan suggests creating an appetizer or children's table with a fun theme, and save the formal china for the dining table. "Use everything you have," Gainan said. "Don't save anything for another day. If you have china, use it."
http://billingsgazette.net/shared-content/gallery/?galleryid=15&albumid=208