VOTE FOR YOUR FAVORITE NEW VARIETY OF POINSETTIA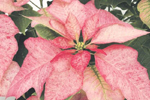 Nov 23, 2008
Pink Lipstick at a Garden Center? That's right, but it's not at the make-up counter. It's a new variety of poinsettia being shown at the 8th Annual Poinsettia Trial Show. Billings' plant lovers get their chance to vote for new poinsettia varieties. Now through November 30th, over 45 poinsettia varieties are blooming with unusual color and leaf shapes and are ready for public voting at the Garden Center - 810 Bench Blvd. Billings, along with a few other U.S. cities and three universities, has been chosen to host The National Poinsettia Cultivar Trials.
Annually, Westcan trials 136 varieties of poinsettias from four global breeders. They are Fischer USA Inc., Dummen USA, Oglevee Ltd., and Paul Ecke Ranch. For over 50 years growers from all over the world have vied to qualify for PBR (Poinsettia Breeders Rights), which provides licensing and royalty provisions if the new introduction is sufficiently distinctive from current varieties.
According to the Society of American Florists, "Poinsettias are the largest flowering plant crop in the U.S. with sales of over 75 million pots per year." The rights to a particular variety can be very profitable to the successful breeder.
Information gathered from Billings customer feedback during the Poinsettia Trials will be forwarded to Westcan, combined with results from other locations and given further evaluation. Public voting will be considered heavily when determining which breed "makes the cut".
Originally from Mexico and Central America, poinsettias are a very popular holiday plant. An Act of Congress declared December 12 National Poinsettia Day. The date honors the death of Joel Roberts Poinsett, an amateur botanist and the first ambassador to Mexico who died in 1851. Poinsett was credited with introducing the native Mexican plant to the United States.
The community is invited to view over 45 new varieties of poinsettias being introduced this year. We want you to tell us what your top 5 favorites are! New introductions are on parade through Sunday, November 30th. Poinsettias: They're not just red, pink and white anymore!
Drawings will be held from all ballots and the winners will take home the first of each variety.
Jim Gainan is VP / Shareholder of Gainan's Flower and Garden Center in Billings.Questions or comments? Email Jim Gainan at jim@gainans.com