CAPTURE THE WARMTH OF FALL WITH RICH, BRIGHT COLORS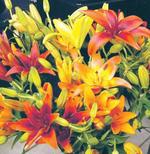 Nov 16, 2008
The colorful days of fall are fading all too fast. Today as I look out of the window, I see bare trees and gray skies. So it's time to inject some warmth and vitality into our days.
Fall decorating is all about capturing the warmth of the season with rich colors, spicy fragrances and cozy settings. It can also serve as a basis for your Christmas look. Think about the first layer of decorating being something which can transition through the end of the year. A grouping of lichen branches, curly willow or pine cones can look very fall-like with a few leaves and quickly be transitioned to Christmas when the leaves are removed and replaced with fresh evergreen and mercury balls.
Start setting a festive tone as soon as you get to your front door. Hang a permanent wreath or swag full of colorful fall leaves and vines with orange berries on your door. A shock of wheat or the tops of cornstalks bundled together with a vibrant fall ribbon can be hung on a wall or placed in baskets.
For a seasonal centerpiece on your coffee table, arrange a bed of artificial fall leaves on a large platter so the leaves hang over the edge. Place an arrangement of pillar candles on the leaves and fill in the empty spaces with small pinecones, nuts or clusters of berries. Select spicy, cozy scents like cinnamon, nutmeg and vanilla. For more fragrance in your home, layer potpourri in a basket and cover with cones or nuts and place on a coffee table or end table.
For your dinner table, create candleholders for tapers by carving out space in miniature pumpkins, gourds or apples. Wrap simple vases with raffia, ribbon, fall leaves, twigs or cinnamon sticks to create a fun fall look.
Fill the vase with seasonal flowers and rustic accents like tinted sunflowers, pumpkin tree, hypericum, rosehips and rover mums.
For a more modern table centerpiece, fill a bowl or simple platter with green apples, gold leaves and use brown accents, such as pinecones or nuts.
Whatever you do - have fun with it!
http://billingsgazette.net/shared-content/gallery/?galleryid=15&albumid=180