COOL CROP PLANTS ARE PERFECT FOR THOSE WHO CAN'T WAIT TO DIG!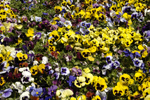 Apr 12, 2009
The most asked question of garden center owners across the country this time of year is "When can I plant?" The standard answer for our area is, "The average last frost date for our area is May 15th."
But, let's get real. Most of us can't possibly wait that long. Once the time 'springs forward' and we have that little extra light in the evening - spring mode kicks takes over.
The trick is planting in the right order. The best thing to do this weekend is "prep work". Gardening is like painting your house. The end result has more to do with the preparation than it does with what color is used.
Start by:
• Cutting back the dead stems of perennials
• Removing debris and old leaves from beds
• Amend the soil by adding compost to garden areas
• Add thin layer of fresh bark over what was there last year just to freshen the look
• Get a really clean edge on all of your beds and install rubber, metal, or fiber edging
• Make sure all trimmers, mowers, shovels, and rakes are in working order - sharpened and tuned up for the year
• Clean debris from rain gutters
• Edge lawn around sidewalks, flower beds and driveways
• Apply lawn spring weed control and fertilizer
Now I can see why planting a few geraniums is more fun. This is just a partial list of what could be done to make this year the best gardening year ever. If you get everything prepared for the year and you still have some energy left, plant some pansies. They should really be called 'toughies' because I've seen them survive after being covered under 6 inches of wet spring snow.
The pansy is perfect for all of us gardeners who are itching to get outside and plant something now. Don't let its delicate features and charming face fool you; pansies are tough little plants and can be planted early in the spring long before other flowers. They can tolerate low temperatures, but be prepared to cover them if temps fall below 20-25°F.
Being a cool crop, pansies prefer a partially-shaded area with cool, moist, well-drained soil. The more spent flowers you remove, the more flowers you will have.
In the yard, pansies work well in shady patio planters, window boxes, borders and beds. They have a light fragrance that is more apparent in the early morning and dusk when the air temperature cools. Yellow and blue varieties seem to be more aromatic than other varieties.
A container garden of pansies with some curly willow or cherry blossom branches at the front door is a great way to get your hands dirty and reward yourself for all of the 'prep' work you've done this week. This will be the perfect band-aid until we can get into some serious gardening!
Jim Gainan is VP/Shareholder of Gainan's Flower and Garden Center in Billings.Questions or comments? Email Jim Gainan @ jim@gainans.com.