GAINAN GRANDCHILDREN TAKING OVER FAMILY BUSINESS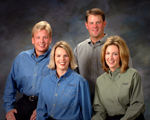 Apr 14, 2001
Published on Saturday, April 14, 2001.
Last modified on 4/14/2001 at 10:38 pm
Transferring family businesses from one generation to the next has always been tricky.

As the old joke goes, granddad pioneered the ranch. His son made it a going concern. And his grandson either blew the money or high-tailed it to the city.

In an attempt to avoid such traps, the Gainan family worked over a decade to plan the transfer of the family's 50-year-old floral and gift business to the third generation.

"They are smart kids and have lots of options and it would be a shame to have this great opportunity and have them leave town for something else," Mick Gainan said. Mick manages the Heights Garden Center and is chairman-elect of the family corporation's board.

The family business that has been an anchor enterprise in downtown Billings was started in 1951 by Grant Gainan and his wife, Betty. Two of their three children, Chuck and Mick, have been running the business since 1978, when Grant died.

In the early 1990s, Mick's two children, Jim Gainan and Kristi Gainan Graves, and Chuck's two children, Kara Gainan Dahlberg and Todd Gainan, were starting to look at other opportunities.

"My intent was to got out and do something else. There was just something that drew me back," said Kara, who now is vice president in charge of purchasing and visual presentations. She planned on moving to Minneapolis to work at a clothing store at the Southdale mall. Her brother, Todd, now Gainan's president, also had other plans in 1992 when he was 23.

"I was only going to stay for one month and go and do something else, maybe construction or ranching," he said.

Communication vitalMick and Chuck also saw first hand what can happen when families don't communicate early and openly about business issues. In the early 1990s, Mick visited a friend, who ran a Texas floral shop. For years he assumed that his two daughters would take over his business. But when the daughters were in their late 40s and the founder was in his 80s, the daughters decided to do something else.

"It was just an assumption they made that didn't work out," Mick said.

Concerned about the transition, Mick called a meeting of his family at his home in 1991 to start talking.

"My father and uncle didn't want to wake up when they were 80 and find out that there wasn't anyone there trained to take over the business," said Jim Gainan, who handles sales and marketing.

"We did put together a plan and we started formalizing it," Chuck Gainan said, waiving a legal-sized manila folder containing the results of the 10-year effort.

Transitions Other than a tour in the Navy, Mick has spent his life in the family business, running the garden center in Billings Heights.

"I personally don't know anything different," Mick said. It was the same for older brother, Chuck.

"My work has become my hobby," said the chairman of the board.

But the third generation wanted more flexibility.

"We watched you make this business what it is today," Kara said, "but we don't want to live at the store."

Investing years in the business also was a concern.

"At age 27, you don't think you want to do something until you're 80. You also don't want to work 30 years and then walk away," Jim said.

After that family meeting in 1991, the family attorney and accountants drafted legal documents spelling out the details.

The Gainans decided to set up a four-year junior management program to cross-train the third generation. The cousins were employees, but received modest stock shares. At the end of the four years, if they decided to stay, they would become part-owners.

If they left, they could cash in their non-voting shares to get some seed money to try another life.

"To throw four more people into management, it was really scary," said Kari.

Kristi Gainan Graves trained in both the creative part of the business and in the office. Her main concern was balance between work and home.

"I think that one of the biggest pluses was that there would be four of us to divide the work," Kristi said. "We had made a conscious decision that we weren't going to sleep here."

Under the new management structure, she is vice president of production and handles the flower buying and arrangements.

Over the years, the family discussed any and all family and workplace issues.

What happens if the cousins decide to have children and cut back their work hours? Are they paid full-time or part-time?

Will they become employees instead of owners? What are the vacation schedules? Who opens and closes the store on what days? What happens if a spouse of a family member wants to work at the store? The cousins also decided to give themselves the same discount on store items as regular employees receive.

Toward the end of the training program, the deal was falling apart. The two Gainan families were thinking of splitting. Mick's family was going to buy another business in Billings and do something else.

Chuck Gainan called an all-day meeting at the Northern Hotel and told his relatives the flower business would be stronger with everyone working together.

The hotel meeting changed minds. The cousins decided to stay and make it work.

"The conversations we had outside of this building brought us together," Todd said.

Even more planningIn 1996, the business won the Montana Family Business of the Year award. At the ceremony, they met a consultant from Montana State University and, two years later, they hired her to refine the transition.

"She dug into our individual strengths and challenges," said Kara. "She asked us what scared us. And what intrigued us. We went to this retreat at Big Timber and went through the concerns and the structure."

"The more you talk about this stuff, the better," Jim said. "We have very high expectations of each other."

The consultant had the Gainans focus on a management tool called SWOT: measuring their individual strengths, weaknesses, opportunities and threats.

The transition, so far, appears to work well. But, last week in his downtown office above the floral and gift shop, Chuck said for all the effort and planning, the deal isn't done.

"We don't have this all figured out. This is a work in progress. This transition is constantly evolving," he said.

The six officers of the family corporation clearly credit their business success to the employees. Gainan's employs 100 people, a workforce that grows to 150 for the busy floral holidays.

The cousins also agree they are lucky because they all were interested in different fields and weren't competing for the same job. Three generations still run the store.

Betty Gainan, who co-founded the business with her husband in 1951, uses a wheelchair. However, the 84-year-old comes into the store every other Tuesday to sign the payroll checks and write a personal note to each employee.

And she comes to the store on Fridays to sign the bills.

Working with flowers and gifts is a plus, compared to, say, a leather factory. Mick said it's a "fun and heartfelt business."

"You have an opportunity to meet people when they're going through a very emotional part of life," Mick said. "You're there when their kids are born and you're there when they leave this world."

The next yearsHanding the business over to the next generation is one issue.

Adapting to a global economy is another.

Sales growth figures are proprietary. But Gainan's sold 100 bunches of flowers and 50 blooming plants for Easter in 1966. This Easter, 35 years later, the business expects to sell thousands of bouquets and potted plants.

The corporation mails 40,000 Christmas catalogs to six countries and 47 states.

The 40-page Web site – gainans.com – grew 374 percent last year over 1999. In the first three months of this year, Jim said, the sales for the first three months of this year equaled six months of last year.

"We're getting orders from people who live in Portland who are sending flowers or Waterford crystal to someone in Florida. It's a great growth opportunity," Jim said. "And they know we will make any order good, if the customer isn't satisfied. It's hometown service over the Internet."

The business team faces the usual challenges of surviving in a global marketplace, keeping good employees in a shrinking workforce and attracting the consumer's discretionary dollar.

The family meets every Thursday at 7 a.m. to discuss everything from management concerns to requests for donations.

For Jim, thinking of his grandfather's risk keeps him motivated.

"It would have been easy for him to work a regular job, make a decent salary and pay for his house. If he hadn't had the courage to start the business, we wouldn't be here," Jim said.

And the four cousins all focus on how to keep the business growing.

"What's the next level? It's hard to know," said Todd. "How do you increase your business? What can we do better for our customers? That, to me, is the hard decision."

"But I keep thinking, the thing I want is happy customers and happy employees, then everything else falls into place," he said.


Copyright © The Billings Gazette, a division of Lee Enterprises.