ROSES COME IN A MYRIAD OF STYLES AND A RAINBOW OF COLORS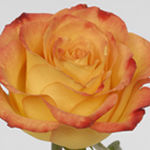 May 25, 2008
Peace, Tropicana, Mr. Lincoln, Queen Elizabeth . . . these names all quickly recognized by gardeners as classic roses and All American Rose Selection winners.

The AARS is a non-profit association of rose growers dedicated to the introduction and promotion of exceptional roses. They have been awarding their seal of approval to outstanding rose varieties that have withstood their trial programs since 1938.

Each AARS winning rose goes through a two-year trial program in nationwide test gardens representing every climate zone. They are evaluated on everything from color and fragrance to disease resistance and flower production.

The results? The guarantee that only the best roses make it into your garden.

Before introducing this year's winners, let's review the types of roses and their basic characteristics.

Floribunda roses have a bushy growth habit and have clusters of flowers.

Hybrid Tea roses are one of the most popular rose types. They are upright bushes that usually produce one flower per stem and most varieties are fragrant.

Grandiflora roses are a cross between a floribunda rose and a hybrid tea rose. The rose bush has a taller stature growing to six feet with classic hybrid tea flowers in clusters.

Shrub roses have a spreading habit and grow close to the ground.

Climbing roses have long arching canes (stems) with a multitude of flowers that can grow on fences or trellises.

Miniature roses are the smallest class of rose plants growing six to twenty-four inches in height. They are a continuous bloomer and are good in containers.

Tree roses are essentially comprised of a long stem grafted to a hardy root at one end and a rose bush at the other. They need extra protection in winter.

The two roses that join the prestigious AARS list for 2008 are Dream Come True and Mardi Gras.

Dream Come True is a grandiflora rose that is yellow with blushed red tips with forty petals. The large blossoms can be up to five inches across with a mild tea fragrance. Dream Come True has a medium-tall upright bushy habit with long stems and matte-green foliage. It has excellent disease resistance. Dream Come True was introduced by Weeks Roses.

Mardi Gras is a floribunda rose with yellow orange flowers fading to pink at the tips. The four-inch blossoms grow in flat layer clusters. Each blossom has twenty to twenty-five petals and a mild, peppery fragrance. Mardi Gras grows to four feet tall with an upright well branched and hedge-like habit. The stems are 16-20 inches long with semi glossy dark green foliage. It has demonstrated good disease resistance. Mardi Gras was introduced by Jackson & Perkins Roses.

Roses come in a myriad of styles and a rainbow of colors. Whether planning a rose garden or adding one or two specimen plants, there is sure to be a rose out there for everybody.

Questions or comments? Contact Jim Gainan via email at jim@gainans.com. Jim Gainan is a VP/shareholder of Gainan's Floral and Garden Center in Billings.