GAINAN'S DEDICATION, HARD WORK PAY OFF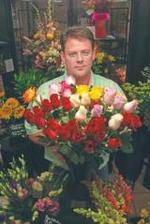 Jun 11, 2008
Gainan's dedication, hard work pay off
By Tom Howard

Gainan's Flowers and Garden Center of Billings has achieved one of the floral industry's top honors by winning the sixth annual Retail Florist of the Year award from the Wholesale Florist and Florist Suppliers Association and Florists' Review magazine.

Those who may be suspicious of industry honors should understand that the award isn't a popularity contest or the result of some random drawing. After being nominated by Roses & More, a Spokane-based wholesaler, Gainan's had to provide detailed information about every aspect of the business: sales, marketing, store design, advertising and promotions, flower variety and quality, customer service, nonfloral product lines, community involvement and industry involvement.

"It was a lot like filling out an application for a federal grant," said Jim Gainan, the company's vice president of sales and marketing. "We had to provide pictures of our stores, samples of our shopping bags and even boxes for corsages."

Gainan said the submission totaled 85 pages and took many hours to compile. But the effort was worthwhile.

"It's nice to be recognized by people in the know, and it's a nice way to celebrate 57 years of hard work," he said.

This isn't the first industry award for Gainan's. In 1995 Gainan's received the Nation's Leader Top of Mind Awareness Award because so many local residents associated the name with the flower business. In 1996 the Montana State University-Bozeman College of Business named Gainan's Montana's Family Business of the Year.

Gainan's, a fixture of Billings retailing since 1951, took root because the founder was looking for a change of pace in his career. One day Grant Gainan announced to his wife, Betty, that he planned to leave his job as a firefighter and open a flower shop.

Her response: "But I don't know a petunia from a geranium," is a cherished piece of family lore.

The April 28, 1951, issue of The Billings Gazette announced the store's opening with an ad proclaiming: "Presenting a most unique display of unusual flowers, plants, centerpieces, corsages, floral supplies and tropical fish."

Gainain's moved to larger quarters four years after it opened. Grant, Betty and their children - Chuck, Kathy and Mick - moved into an adjoining apartment, making the floral shop a genuine family affair. Over the next 35 years, the store was renovated and expanded nine times. When Grant died in 1978, Chuck and Mick ran the store with Betty.

As Billings grew, so did Gainan's. A West End store opened in 1980, and the Heights Garden Center opened in 1982. In 1988, Gainan's unveiled its 35,000-square-foot downtown store at 502 N. 30th St. Years earlier, Grant Gainan had pointed to a cluster of homes west of North 30th Street and predicted that the store would someday be located there. His words proved to be prophetic even though he didn't live to see the company's flagship store come to fruition.

Today, Gainan's has around 100 year-round employees, but employment grows to around 150 people during the busy times of the year. Traditionally, May is a busy time for flower shops and garden centers because people are starting to work in their yards and Mother's Day is a big event for flower sales.

Betty, known affectionately as "G'ma G," continued to play an active role in the business until her death in 2004.

In the 1990s the family made another important investment by developing a detailed plan to assure a smooth transition to the third generation of Gainans. As part of the plan, the future managers went through a training program.

Here's how the team was organized: Todd Gainan, president; Jim Gainain, vice president of sales and marketing; Kristi-Gainan Graves, vice president of production; and Kara Gainan-Dahlberg, vice president of buying. "We've been lucky because everybody gets along pretty well," Todd Gainan said.

But more expansion is in the works. The family has purchased six acres south of King Avenue West, just east of South 29th Street West.

The new property will include green space and will be intersected by a city bike path.

The Gainans did a lot of homework before buying the property. They even conducted a focus group with West End property owners to get an idea of how the company would fare in the fast-growing area around King Avenue West.

"We talked with different groups, business and property owners and customers," Jim Gainan said. "We wanted to find out things like shopping habits and what kinds of products and services they might be interested in."

The proposed West End store is still a work in progress. "We really haven't decided on a design yet," Todd Gainan said. "I have a lot of pictures of different buildings on my walls, and we're trying to pick some different concepts."

One possibility, Jim Gainan said, is to develop a building suitable for tenants, one that would blend well with a Gainan's store.

"This company has always thought ahead and purchased property when it was the right time," he said. "We're looking at something that would allow other family-owned business in Billings to move into that part of town."