OUR HISTORY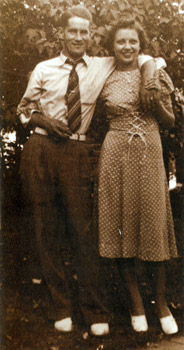 Betty and Grant Gainan
"Grant Gainan is pleased to announce the opening, Saturday noon until 9 pm, of Gainan's Floral," reads the nearly full-page notice in the Billings Gazette on April 28, 1951. It goes on to say, "Presenting a most unique display of unusual flowers, plants, centerpieces, corsages, floral supplies and tropical fish." And so the legacy began.
Our story actually begins with Betty and Grant Gainan. Betty moved to Billings at 18 when her father, a sugar beet harvester, was relocated to Billings. Betty was working towards a degree in education at Eastern Montana State Normal School. Her mother didn't know how to drive and found a local grocer who delivered. "I still remember the day when I answered our door and saw Grant standing there with our groceries. He was a very handsome man." (Yellowstone Valley Women Jan/Feb 2002 issue) Betty used to join Grant on his delivery rounds and they would talk for hours. The couple was married August 11, 1939.
After getting married, Grant surprised Betty and changed occupations to become a city firefighter. This dramatic change was unsettling to Betty. She remembered watching Grant going into the Northern Hotel to fight a fire, not knowing if he would make it out safely. Grant did get out safely and later became the city's first Fire Marshall.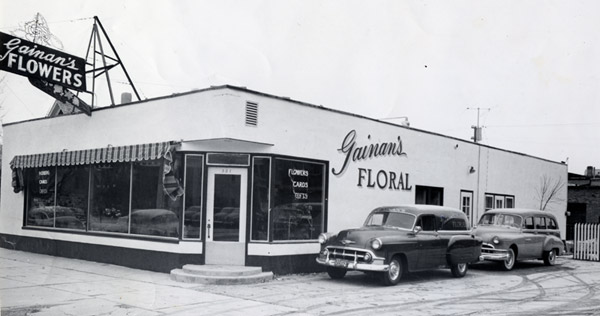 Gainan's Floral opened on April 28, 1951
In the meantime, the Gainans had started a family. Grant's entrepreneurial spirit was restless and once again, Grant came home and announced he was quitting his job and they were going to open a flower shop. "But I don't know a petunia from a geranium," bemoaned Betty. Grant had worked at a local flower shop as a young man and enjoyed planting flowers and trees. And so, on April 28, 1951, Gainan's Floral opened its doors.
Business steadily increased and in 1955, Gainan's moved to a larger location at 501 N 30th. Trying to save money, Grant, Betty and their three children, Chuck, Kathy and Mick, rented out their home and moved into the two-room apartment attached to their new store. Running the store quickly became a family affair with the children helping sweep the floor, wash the flower buckets and clean flowers. Betty, often with her kids riding along, could also be seen zipping around town in their delivery van, "The Panic Wagon."
Over the next 35 years, the store was renovated and expanded nine times. When Grant passed away in 1978, his two sons, Chuck and Mick, ran the store side-by-side with Betty. By 1980, their floral business has blossomed to 46 employees.
The Growth of a Dream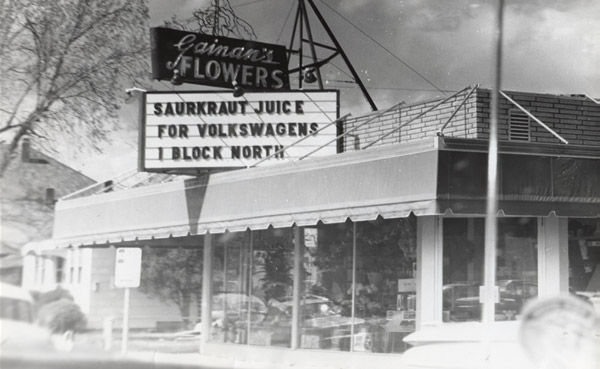 In 1955, Gainan's moved to a larger location at 501 N 30th
In the 1980s, the West End and the Heights were rapidly growing areas. To serve West End customers, Gainan's Flowers West opened in 1980. This rented space was in the Rimrock Convenience Center – now the Wynnsong Theater. "Here We Grow Again" was on the marquis in 1986 when Gainan's Square opened on 24th St West. Gainan's Square houses Gainan's Flowers West and four retail tenants.
The Heights Garden Center was established in 1983 at 810 Bench Blvd with the purchase of the McLaughlin Gardens. Over the next 17 years, this site expanded from two greenhouses to twelve greenhouses plus four coldframes on three acres.
Grant Gainan was a visionary, and years before had looked out the window of his downtown Billings store at the old homes and rentals across the street. He told his family that one day a Gainan's Floral would stand in that spot.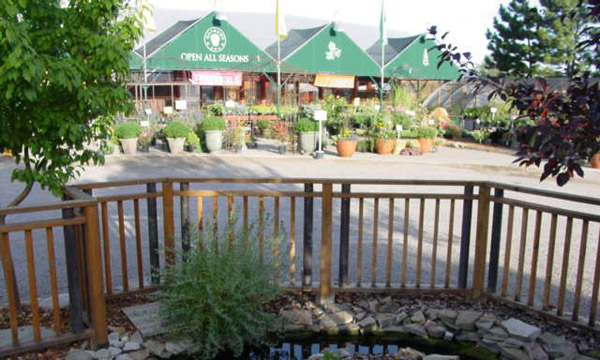 In 1982, the Heights Garden Center at 810 Bench Blvd was established
In 1986, Gainan's agreed to sell its downtown building to the Billings Public School System. The building site was turned into a parking lot for their administration building. In 1988, the new 35,000 sq ft downtown store was unveiled, right on the site where Grant had predicted it would be. The new flagship store, designed in a French country motif, honors the history of the downtown area. The new building uses sandstone cornerstones from the home that was demolished on the building site. Limestone panels from the historic First Bank façade can be seen in the greenhouse. A finial from the Old Commercial Hotel sits on top of the new building and its wrought iron railings can be seen in the south atrium entry.
Eventually this space was also filled, accordingly in 1995, Gainan's purchased the warehouse housing the old Archie Cochrane Ford service department for supply and inventory storage. The year 2005 brought another change as Gainan's moved its inventory to another warehouse and is leasing the space to the Good Earth Market – a local food co-op wanting to expand their services.
1996 brought Gainan's Floral entered into the age of the Internet with the launch of www.gainans.com. This fourth "location" was limited in its commercial capabilities and in 1999 a new 40-page website was unveiled featuring gardening information, customer surveys, job openings, a collectible corner, holiday pages and virtual tours of the Gainan's physical locations. Always striving to bring hometown service to the Internet, 2005 brings more user-friendly renovations to www.gainans.com, including increased product offerings via the Internet for customers.
Focus On The Customers and The Community
Focusing on customer service is always a high priority at Gainan's – and that in itself is it's own reward. In 1995, Gainan's received the Nations Leader T. O. M. A. (Top Of Mind Awareness) for results of 72% consumer awareness of the "Gainan's" name. This was the highest rating across the nation in all industry categories and remains so today. In 1996, Gainan's Floral was named Montana's Family Business of the Year for commitment to family, customers and community by MSU-Bozeman College of Business. Also, Gainan's has been named on of the top 25 of Teleflora's worldwide membership for outgoing wires originating from its store. In 1997, the annual Christmas catalog was mailed to 40,000 people in 6 countries and 47 states. 1999 saw the launch of Gainan's Business-to-Business commercial sales initiative. Supporting the community is a commitment passed down through each generation of Gainan's. Gainan's has supported events that benefit children, education, women and the elderly. The family board meets weekly to discuss donation requests.
Focus On The Family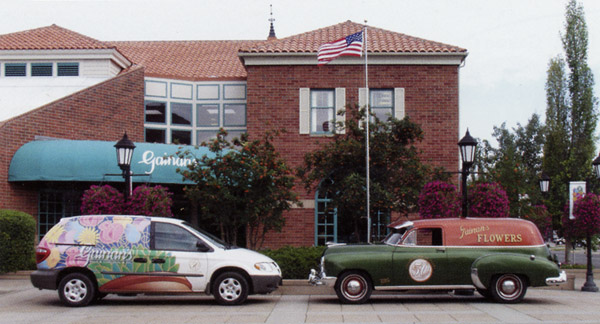 Downtown Store
Planning the succession of a family business can be complicated. The third generation, Chuck's two children, Kara and Todd, and Mick's two children, Jim and Kristi, were encouraged to pursue higher education and explore opportunities outside of the family business. All four obtained their degrees, worked for years outside of the flower shop, and in the end, they all returned to the family business. The Gainan family worked for over ten years to plan the transfer of the family's business to the third generation including a four-year cross training program as employees.
In 2001, as part of the 50th anniversary celebration, Todd, Kara, Jim and Kristi became the third generation to own Gainan's Floral. Todd became President, Kara became VP of Buying, Jim became VP of Marketing and Sales and Kristi became VP of Production. Chuck is the CEO and Mick is the CEO-Elect and Manager of the Garden Center. The transition is a work in progress and communication is the key. Weekly board meetings support that interaction.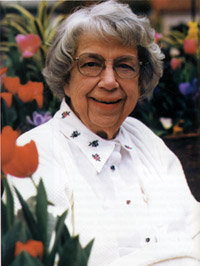 Betty Gainan
The Gainans are quick to give credit for the success of the company to the talented staff. Currently employment reaches 150 in peak season and 100 in off season and the annual payroll tops $2 million. Gainan's Floral offers several benefits for which employees may be eligible. Some of the benefits include a 401(K) program where Gainan's will match up to 6%, medical and dental insurance with a health insurance reimbursement provided even if you don't take the Gainan's insurance, vacation and sick time accrual based on time worked, six paid holidays and a generous employee discount. Gainan's fosters a team environment and holds catered recognition meetings twice a year.
Betty Gainan, "G'ma G" as she was affectionately known to all, still came into the store to sign the checks, the payroll and write a personal note to each employee until her health no longer allowed her that pleasure.
Betty was quoted in the January/February 2002 issue of Yellowstone Valley Woman magazine praising her family, "I'm just so proud of my family, I could just burst. I'm so grateful that they all like what Grant and I did. They are doing a great job with our business." She passed away in 2004.
Members of the third generation now have families of their own. It's not unusual to see this young fourth generation come to visit their parents and grandparents at the store. A foreshadow of the future?
Gainan's Timeline
| | |
| --- | --- |
| 1951 | Company founded by Grant and Betty Gainan at 201 N 30th St. Store renovated/expanded nine times over the next 35 years; business grows to 46 employees by 1980. |
| 1955 | Moved to 501 N 30th St. |
| 1980 | To serve West End customer, opened Gainan's Flowers West in rented space in Rimrock Convenience Center (now the Wynnsong Cinema). |
| 1982 | Heights Garden Center established at 810 Bench Boulevard with purchase of McLaughlin Gardens; over next 17 years, expanded the site from two greenhouses to twelve greenhouses plus four cold frames on 8 acres. |
| 1986 | Opening of 14,200 square foot Gainan's Square on 24th Street West; home to Gainan's Flowers West and four retail tenants. |
| 1988 | Opening of 35,000 square foot Gainan's Downtown, across the street from original store, features French country motif; incorporates finial from old Commercial Hotel (atop new building), hotel's wrought iron railing (in south atrium entry), sandstone cornerstones from the home demolished on building site, and limestone panels from historic First Bank facade (on greenhouse floor). |
| 1992 | Heights Garden Center completely remodeled; 4-acre parcel purchased to hold new 35,000 square foot production/growing greenhouse. |
| 1995 | Purchase of 21,000 square foot downtown warehouse for supply/inventory storage (old Archie Cochrane Ford Service Department) |
| 1996 | Launch of www.gainans.com, the "store without walls" with limited commerce capabilities; 40-page Web site features on-line credit card ordering, a reminder service, gardening information, customer surveys, job openings, a collectible corner, holiday pages, and virtual tours of Gainan's physical locations. For commitment to family, customers, and community, named Montana's Family Business of the Year by MSU-Bozeman College of Business. |
| 1997 | Launch of annual Christmas catalog mailed to 40,000 people in 47 states and 6 countries. |
| 1999 | Launch of Gainan's Business to Business commercial sales initiative |
| 2001 | Fiftieth anniversary celebration; roll-out of third-generation management team; employment reaches 150 in peak season, 100 in off season; sales pass $6.5 million. |
| 2005 | Warehouse leased to Good Earth Market a local food co-op wanting to expand their services. Website redone with more product offerings. |